10 tips to cure Skin allergy: Dermatologist guide
September 1, 2021
2021-09-01 11:36
10 tips to cure Skin allergy: Dermatologist guide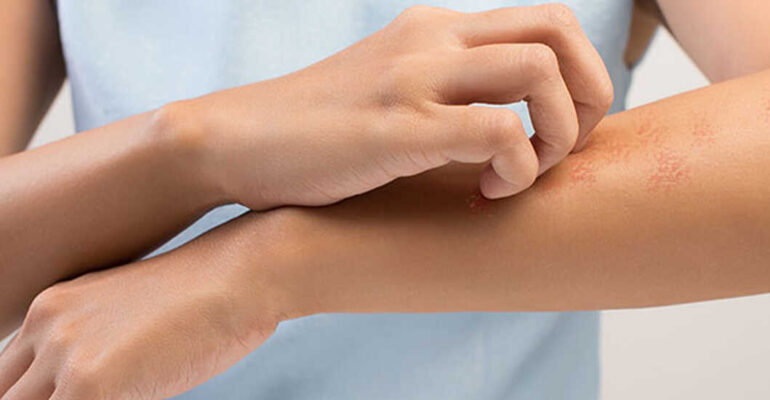 10 tips to cure Skin allergy: Dermatologist guide
"Doctor, when will my skin allergy get better? I have tried so many medicines, even taken steroids, but allergy or eczema comes back."  
Most patients ask me "Is there any way that my allergy or eczema never comes back?"
Yes, definitely there is away, but you have to work hard. In this article, I have listed 10 tips that can help in stopping skin allergy or eczema altogether.
Watch this video to know the basics of eczema skin care:
10 tips to cure skin allergy
TIP# 1: DO NOT LET YOUR SKIN GET DRY
The natural moisturising factors are lacking in people who have a skin allergy or eczema. Skin barrier is breached in dry skin leading to allergy.It is absolutely essential to keep your  skin oily, soft and supple 365 days in a year. Here are few suggestions:
Take a bath with lukewarm water. Avoid hot water. It can remove natural moisturising factor.
Take a short bath.
Use mild fragrance-free soaps or body wash that do not foam vigorously.
Use mild shampoos and wash your hair in such a way that lather of shampoo does not stay on your body.
Wear rubber gloves, while using detergent or surf.
Pat dry with a soft towel rather than rubbing to leave your skin slightly wet.
Apply moisturizer immediately on slightly wet skin to trap the water.
Repeat moisturizer, if skin feels tight or stretched or appears dry, flaky and cracked.  Ideally moisturizer should be put four hourly.
Apply moisturizer in large quantity, approximately 250g/week of moisturiser is required in child and 500g/week in adults. This will reduce the requirement of harmful steroids.
RELATED: List of Dermatologist products that can help in relieving excess or skin allergy
TIP# 2: USE COTTON FABRICS
Avoid rough fabrics like woollen sweaters, blankets etc.
Avoid synthetic fabrics like polyester, nylon, acrylic etc.
Wear loose fitted cotton clothes.
Remove tags from clothes.
Wash clothes in perfume-free detergent and rinse them properly to remove all the detergent.
TIP#3 AVOID SUDDEN TEMPERATURE CHANGE
Do not switch on AC immediately after coming from the hot sun.
Switch off AC/ fan few minutes before leaving in the hot sun.
Stay indoors in very hot or cold weather.
In summers, wear loose cotton clothes and take a bath if you are sweating a lot.
In winters, keep your skin warm with soft clothes.
Take bath with lukewarm water in both summers or winters, so that body temperature does not change while taking a bath.
TIP#4 STAY STRESS-FREE
Stress can increase skin allergy. Therefore, try to stay stress-free. If your kids are suffering from a skin allergy, then do not show over concern. Instead, try following:
Give your child frequent breaks out of the study to play.
Engage them in some activity so that they forget about itching.
Calm your irritated child by applying moisturizer.
Your smile and caring words can do wonders for your kid.
TIP# 5 AVOID SCRATCHING
Constant scratching can worsen rash further. Therefore, avoid scratching by:
Applying moisturizer at places of itching.
Take antihistaminic syrup at doses prescribed by your dermatologist.
Cut your nails short.
Put cotton gloves at night to avoid itching.
TIP#6 AVOID INFECTIONS
Wash your hands before applying medicines.
Do not leave jars of emollients open and close the tubes of medicines properly after use.
Use a clean spoon to remove moisturizing creams from jars or use pump dispensers
TIP#7 AVOID PETS
If possible, avoid keeping pets
If you have pets at home, then vacuum your house weekly and keep pet off your bed and furniture.
TIP# 8 AVOID DUST AND POLLEN
Avoid putting heavy carpets and curtains. Instead, prefer light cotton curtains and vacuum carpets regularly.
Prefer leather sofas over thick fabrics because they catch less dust. Leather can be cleaned by wet cloth.
Use light cotton bed sheets and change them at least 2-3 times in a week.
Always do wet mopping of the house to remove dust.
Avoid stuffed toys because they are dust catchers.
If you are allergic to pollens you will have an exacerbation of AD during a particular season. In such cases, you should:
Stay indoors as much you can.
When outside ,avoid playing on grass or in gardens.
Take bath and change clothes when you come back to remove pollens clinging to skin, clothes and hair.
TIP# 9 STOP MOLDS (Sillan in hindi) 
Molds grow in damp and dark places, therefore:
Avoid sitting in the basement and damp rooms.
Let sunlight come in your room daily.
Open the windows of your room to let fresh air come inside daily.
TIP#10 AVOID ALLERGY CAUSING FOOD
Certain foods like milk, peanuts, eggs, soy, seafood can increase allergy in a few people. If you have noticed exacerbation with that particular food, then avoid it. However, do not avoid food if they do not cause an increase in skin allergy.
Watch this video to know the common cause of skin allergy and how to avoid them: 
Hope this article was helpful, if you still have queries, you can consult Dr Surbhi, MD online @7347594947