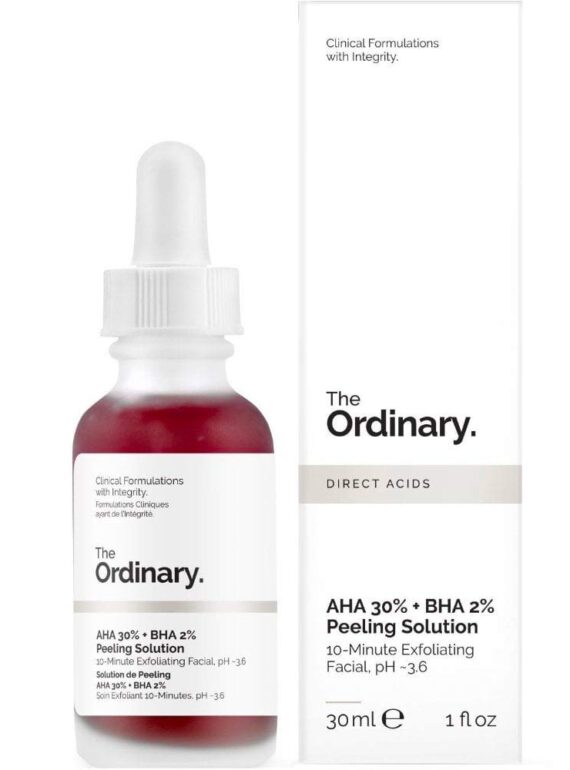 The Ordinary Peeling Solution
Thinking of doing at home peel? Well, you can try The Ordinary peeling solution. The Ordinary peeling solution has 30 % AHA that can help in skin lightening, reducing dullness and uneven skin tone. While 2 % BHA help in reducing oil secretion, open pores, and comedones.
What is it? Peeling solution that can be used at home.
Who can use it? Oily to normal skin type not prone to rosacea, allergies, or sensitivity breakouts.
How about sensitive skin? Sensitive skin might get more sensitive with use of peels. Better avoid it, especially if your skin is super-sensitive.
Goodies: Glycolic Acid, Salicylic Acid, Lactic Acid, Tartaric Acid, Citric Acid, Panthenol, Aloe vera, Tasmannia Lanceolata Fruit/Leaf Extract
Not so good: None
Description
Composition
The Ordinary Peeling solution has 30% concentration of AHA (Alpha Hydroxy acids) in the form of Glycolic acid, tartaric acid and lactic acid. We could not find the concentration of individual acids. AHA especially glycolic acid removes dead skin cells, reduces dark spots, hydrates your skin and has anti-ageing benefits.
The Ordinary Peeling solution also has 2% salicylic acid. BHA at concentration of 2 % in peel does not have much role. Dermatologist use 30 % Salicylic peels to control acne.
The soothing agents like Panthenol, aloe vera  Tasmannia Lanceolata Fruit/leaf extract counteract the irritant action of this peel. Glycerin, water and aloe vera hydrate your skin.
Benefits
The Ordinary peeling solution has following benefits:
Skin lightening: AHA or Alpha hydroxyacids have a unique ability to reduce melanin in your skin. Infact, dermatologist often use Glycolic acid peels at concentration of 30-50% for reducing dark patches/spots.
Reduce dullness and uneven skin tone: Over a period of time dead skin cells start building up on your skin, that give dull and sallow look. Peeling can help in removing dead skin cells impart even tone look.
Soft and supple skin: AHA hydrate your skin. Thus, your skin might feel soft and supple after peel
Reduce oil secretions: BHA concentration is quite low in this peel. All it does is increase penetration of AHA. However, regular use of peel might reduce excessive oil secretions, prevent open pores and blackheads.
How often can I use it?
Ideally peel should be done after 2 weeks. Once you achieve results, switch to once a month frequency. Lot of companies advocate to do peel twice a week. But this might make your skin sensitive.
Avoid if you have:
Sensitive skin- Do not try even if your skin is calm. 30% AHA peel can be used in sensitive skin under the supervision of dermatologist only. If your skin reacts to salon procedures or skin care products easily, then avoid peeling.
Post Inflammatory hyper-pigmentation-If your pimples or cuts heal with dark spots, then you should not use this peel to begin with.
Severe daily sun exposure- This peel will make your skin sensitive to sun. If your daily work involves exposure to bright sun, then avoid this peel. Sunscreen might not be enough to protect your newly developed skin cells from sun.
Dermatocare recommendations
Additional information
| | |
| --- | --- |
| Gender | Female, Male |
| Is your skin red/itchy/bumpy? | Never |
| Skin concern | Acne & Blemishes, Ageing/Wrinkles, Pigmentation & Dark Spots, Pores/Blackheads/Whiteheads |
| Skin Type | Normal/Combination, Oily |
| Price range | $$ |
| Regime | Monthly |