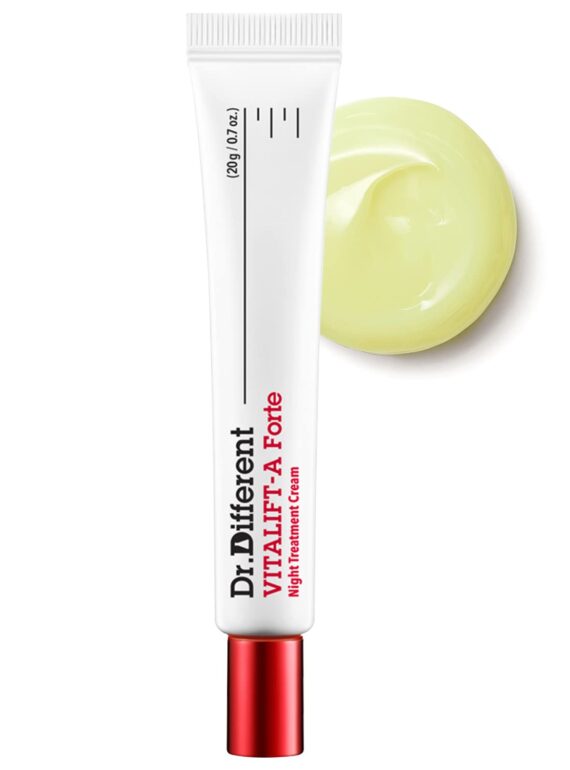 Dr Different Vita A Cream Forte
If you are a fan of K Beauty, then Dr Different Vita A Cream Forte is a must try. It enriched with Retinaldehyde, Hyaluronic acid, adenosine, ceramide and safflower oil.
What is it? Anti-ageing cream with Retinaldehyde and Hyaluronic acid
Who can use? Normal to oily skin types for reducing signs of ageing skin
Sensitive skin: Might not suit
Description
Benefits:
Anti-ageing: Dr Different Vita A Cream Forte fights ageing with the help of most potent  retinoid available without prescription, called as retinaldehyde. Studies show that Retinaldehyde at concentration of 0.05% show both visible and microscopic reversal in ageing process after 1 year of use.
Deep hydration: This cream has many emollients like glycerine, shea butter, ceramides, safflower oil, cholesterol etc. they help in counter acting the dryness cause by retinaldehyde.
Plumping effect: Glycerine and Hyaluronic acid absorbs water into epidermis giving plumping effect.
Side effects:
It can make your skin dry and sensitive, especially if you are new to retinoids. We recommend introducing it gradually.
How to use it?
You should use this cream at night after washing and pat drying your face. Start with 0.5% variant twice a week and then alternate night and finally daily. For detailed instructions on how to use retinoids correctly, read our article: Best retinoid or retinaldehyde cream
Dermatocare recommendations
Additional information
| | |
| --- | --- |
| Gender | Female, Male |
| Skin Type | Normal/Combination, Oily |
| Skin concern | Ageing/Wrinkles |
| Is your skin red/itchy/bumpy? | Never |
| Regime | Night |
| Price range | $$$ |
Related Products