Tea tree oil for Warts: DIY from Dermatologist
September 23, 2021
2022-07-27 6:31
Tea tree oil for Warts: DIY from Dermatologist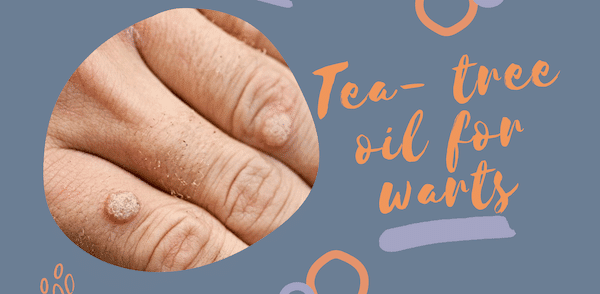 Tea tree oil for Warts: DIY from Dermatologist
Does tea tree oil kill warts? Is it safe to use on Gentile warts?
Warts are HPV virus infections. They occur most commonly as finger warts, toe warts, anal warts, plantar warts and rarely as body and face warts. As a dermatologist, I have treated many cases of warts with radio-frequency, cryotherapy and medications.
Recently, I tried tea tree oil in a few cases of warts on face and feet with good results. It is super easy to use tea tree oil for warts. But it is important to follow the precautions listed in this article.
What will you need?
You will need a toothpick and tea tree oil. Tea tree essential oil is available easily online at
My research showed some studies on the efficacy of tea tree oil for warts. I decided to try tea-tree oil for warts in a few of my patients around one year back. To my surprise, the results were very good with no recurrences till now.
How to use tea tree oil for warts?
Put pure tea tree essential oil exactly over warts with the help of a toothpick. Make sure that it does not spill on the normal skin. Undiluted tea tree essential oil can cause redness, irritation or rash in the normal skin. Please take the help of a friend or family member if needed. Repeat this, until your warts vanish.
You might notice redness and irritation on warts after using tea tree oil for a few days. This is the result of the inflammatory reaction in response to tea tree oil and is desirable. Please continue the tea tree oil until you notice raw area and unbearable irritation. Warts might take seven days to 3 months to vanish.
If you don't see a response within a month or if new warts are appearing, please see your doctor without any delay.
Tea tree oil for genital warts
There is 2 type of Genital warts- keratinised and non-keratinised. Keratinised warts are firm to touch, and skin coloured. Non keratinised warts are pink in colour and soft. You can safely apply tea tree oil on Keratinised genital warts. When it comes to mucosal warts, best to avoid tea tree oil.
Precautions
Tea tree oil is irritant and dangerous if it comes in contact with delicate areas of the mouth, eyes, nose, genitals and anus. Thus, avoid tea tree oil in these sensitive areas.
Avoid tea tree oil in pregnancy and lactation.
Make sure that tea tree oil does not spill onto the normal skin. If needed take the help of others. Apply Vaseline jelly on surrounding normal skin.
Discard the toothpick after applying the tea tree oil to the dustbin.
Use a new toothpick for warts on different sites.
You can use tea tree oil in kids beyond three years of age, but make sure that there is no spill on the normal skin. A good idea would be to put tea tree oil on warts after they sleep.
Mild redness and irritation over warts are normal with this treatment. However, if you notice intense redness, raw area or unbearable irritation, discontinue tea tree oil. Consult dermatologist immediately.
Tea tree oil is not a substitute for treatment. A doctor visit is recommended immediately for bigger and multiple warts.
Takeaway message
You can try tea tree oil at home for small warts. However, if you don't see a response within a month or if new warts are appearing, please see your doctor without any delay.
LIST OF OTHER REMEDIES WITH TEA TREE OIL: