Rosewater toner for oily skin: DIY from Dermatologist
September 23, 2021
2021-09-23 12:11
Rosewater toner for oily skin: DIY from Dermatologist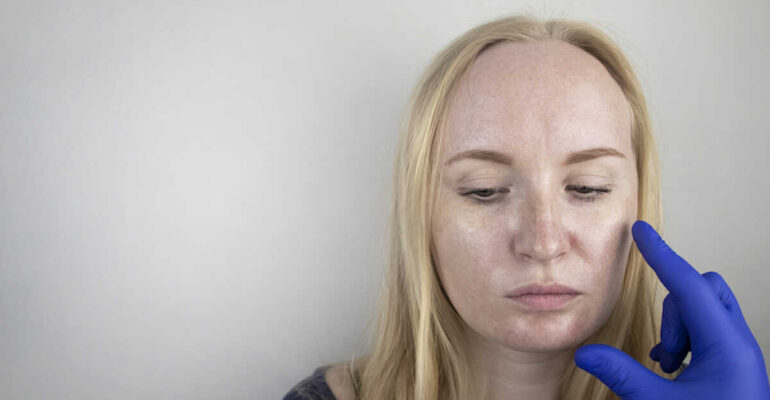 Rosewater toner for oily skin: DIY from Dermatologist
Does your face get oily and greasy after few hours of washing? Do you wash your face, again and again, to remove these excess oils? Unfortunately, this is NOT the right way, because frequent washing or harsh alcohol-based toner might over dry your skin, that in itself can trigger oil rebound from your overactive oil glands. So, what is the solution?
You should wash your face for maximum 3 times a day with one of these best face wash for oily skin and add toner to your oil controlling regime. This rose water apple cider vinegar toner is apt for this purpose because it is gentle, yet potent enough to remove excess oils.
The regular use of this toner will reduce your oil secretions, open pores and pimples. You can also titrate the dilution of this toner to match the oil secretions of your face. So, are your ready to try this rosewater toner for your oily skin?
What do you need?
You will need following two ingredients:
Apple cider vinegar: It has oil controlling, astringent and skin cleansing action according to Dr Oz. It can removes oils from your skin without much damage, provided you dilute it with rose water. Apple cider vinegar is easily available in supermarkets, you can also buy it online. Do check the brands that sell organic apple cider vinegar in your region by click on the links given below:
Rosewater: It counteracts the irritation potential of apple cider vinegar, owing to its soothing action. It also hydrates your oily skin with no chances of clogging your pores. Rosewater is one the best natural ingredient that every one should try, however, make sure that it truly natural because many popular brands of rosewater (especially in India) have chemicals. Read this article to find Best chemical free organic rose water brand in India, US, and UK.
How to make Rosewater toner for oily skin?
This is surely the easiest recipe you could ever try!
All you need to do is mix rose water and apple cider vinegar in a clean air-tight bottle, shake and your toner is ready to use. Now, the crux is how much rose water and apple cider vinegar should you mix.
It depends on how oily your skin is!
Start with the lowest dilution and increase the amount of apple cider vinegar gradually. This is especially recommended for sensitive skin.
Begin with 1:10 dilution, which means you have to add 10 ml apple cider vinegar to 100 ml of rose water.
Use the above toner for a week or so. If your skin still gets oily, then add 5 ml of apple cider vinegar weekly until you feel that your oil secretions have reduced.
Many bloggers advice to use undiluted apple cider vinegar, however, I do not agree because it is much more acidic than our skin. You can go upto 1:4 dilution, that is put 25 ml of apple cider vinegar in 100 ml of rose water.
If you have sensitive skin, you might have to look for a middle path by continuing with dilution that suits your skin, even if you feel it is not enough for oil control.
I personally feel that 1: 6 dilution works best, and I usually make 30 ml batches that last for a week or two, as shown in this video:
How to use Rosewater toner for oily skin?
Wash your face with either:
Pat dry, avoid rubbing your face with the towel because friction can trigger oil glands.
Take a small amount of this rosewater toner for oily skin on the cotton and wipe your face.
Make sure you spend more time on your T-zone because it has maximum sebaceous glands.
Repeat, until you don't get any residue on the cotton.
Use twice daily; in the morning and night just after washing your face.
If your face feels greasy during the day, then you can do a quick clean up with this toner. Avoid washing your face more than 3 times a day.
How to store Rosewater toner for oily skin?
You can store this rose water and apple cider vinegar toner in an airtight plastic or glass bottle in a cool dry and dark place. The best part of this toner is that it does not need refrigeration and can be kept at room temperature for 21 to 30 days or even longer.
What are the side effects?
This rosewater toner for oily skin has following side effects:
Sensitivity: This rosewater and apple cider vinegar toner can irritate your skin especially if it is sensitive. Thus, make sure you do a patch test before the first use. Also, start with 1:10 dilution and titrate slowly especially in the sensitive skin. If your sensitive skin cannot tolerate apple cider vinegar at all, then you can try this Bioderma micellar solution as a toner.
Bad smell: Another thing that you might not like about this toner is the smell of apple cider vinegar. In this case, you can try one of these toners from the market.
Why should you not add many active ingredients in toner?
There is no need of putting fancy ingredients like mint leaves, green tea, oranges, strawberries, etc. in the homemade toner. Just because your skin cannot tolerate too many active ingredients, rather they can do more harm than good.
Therefore, I strongly recommend restricting the use of active ingredients in the wash off products like toner, face wash and scrub. Instead, use the active ingredient depending on the need of your skin in leave-on products like night moisturiser and face packs.
Well, If you do not understand what your skin really needs, then watch this video tutorial on MINIMAL SKIN CARE AND MAXIMUM BEAUTY