Best dermatologist recommended eye cream
September 2, 2021
2022-05-20 10:27
Best dermatologist recommended eye cream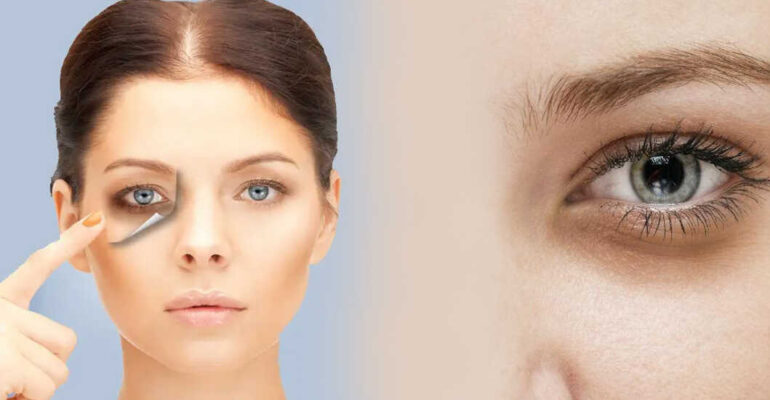 Best dermatologist recommended eye cream
"Doctor, which is the best dermatologist recommended eye cream?
Not all dark circles are same. The choice of under eye cream depends on the type of dark circles. In dermatologist clinic, we first analyse the type of dark circles you have and then prescribe the under eye cream.
Types of dark circles:
Pigmented:
Cause: Pigmented dark circles are caused by stress, bad lifestyle, night shifts, sleepless nights etc. These kind of dark circles run in family. People with allergy also get pigmented dark circle due to chronic rubbing. Avoid rubbing of your eyes.
Appearance: Pigmented dark circles occur because of to increase melanin in skin. You might notice fine wrinkles along with brown to black discolouration.
Star ingredient: Skin lightening ingredients like arbutin, kojic acid, Vitamin C
Vascular:
Cause: Vascular dark circle are caused by engorged blood vessels. Vascular dark circle occurs due to chronic nasal blockage. Seen in person prone to sinusitis, frequent cold, excessive sneezing. An appointment with ENT specialist is advisable.
Appearance: They give purplish hue to under eye skin.
Solution: Vitamin K, Caffeine, Amino-5-guanidinopentanoic acid
Puffy eyes or eye bags:
Cause: Eye bags or puffy eyes are due to water retention at early age or protrusion of fat at older age. If eye bags reduce and increase over a period of time, then water retention is the primary cause.
Appearance: You might have bulge in under eye area.
Solution: The treatment of eye bags is different. Check this article, How To Get Rid Of Puffy Eyes Or Eye Bags: Interview With Best Plastic Surgeon to know more.
Depression in under-eye area:
Cause: Depression in under eye area at old age is common. It occurs because of sagging of cheeks. This also called as tear tough deformity. But if you have a trough below eye at early age, then it is termed as Arcus deformity.
Appearance: You will notice a depressed trough below your eye.Depressed dark circles disappears on stretching the under eye skin.
Solution: Trough is at much deeper levels where eye creams cannot reach. Filler are the only solution. To know more, read How To Get Rid Of Sunken Eyes- Dermatocare's Interview with Best Dermatologist.
Wrinkles and fine lines in under-eye skin:
Wrinkles and fine lines in under eyes skin might give dark hue to skin.
Solution: You should be particular about sun protection. Wear big sunshades that can shield under eyes skin from UV rays or use sunscreen. Peptide or retinol-based eye creams might help in fine lines. Botox injection are indicated for crow's feet.
Dark circles involving cheek and forehead:
Cause: Dark circles extend to the adjacent cheeks and forehead. This is caused by hereditary conditions like Pigment demarcation line and Dermal melanocytosis.
Appearance: They are usually brown, bluish or blackish in colour and extend to the adjacent cheeks. Characteristically pigmentation has sharp straight borders.
Solution: They might respond to LASERS.
Deep seated eyes
Cause: In case of deep seated eyes, the bone below eyebrow can cst a show in under eye area.
Appearance: Dark circles because of shadow will disappear on looking up.
Solution: In such cases, nothing can help, except wearing trendy spectacles with zero power.
Muti-factorial
Most cases of dark circles have more than types listed above. Your dermatologist can examine and tell the best solution.
Watch this video to know the type of dark circles you have:
Dermatologist recommended under eye creams
Fillerina Eye Contour Cream
Technology: Fillerina eye cream stands out because of Swiss patent technology. It has transdermal delivery system that delivers active ingredients in the second layer of skin.
Star ingredients: It has 12 hyaluronic acid, 3 collages and 3 elastin that can actually reach second layer of skin.
Benefits: Company claims that it can help in reducing fine lines, crow's feet and tear trough deformity. Drink 2 glass of water 10 minutes before applying this product.
Type of dark circle: Fine lines and trough. These type of dark circle can be corrected by Botox and fillers completely. Fillerina eye counter cream is cheaper and painless option. You will notice reduction in fine lines after 3 month of continuous usage.
Recommended for: It is highly recommended to prevent ageing sign in your under area.
AVALAIBLE ONLINE IN
Sesderma K-Vit Anti-Dark Circles Serum
Technology: Secderma K Vit has a unique liposomal technology that aid peneteration the active ingredients deeper into your skin.
Star Ingredients:
Vitamin K oxide works on engorged blood vessels in under eye area and reduce build up of blood pigments.
Gingko biloba that improves blood circulation,
Hyaluronic acid and organic silica to that reduces bags and wrinkles.
Castanea sativa extracts is powerful anti-oxidant that help in reversing oxidative damage.
Type of dark circles: Primarily vascular dark circles
Recommended for: If you have purplish hue in unde eye area along with slight swelling and few fine lines, then Sesderma K-Vit is best choice for you.
AVALAIBLE ONLINE IN
Cera ve eye repair cream
Technology: MYE delivery technology is liposomal delivery system that deliver active ingredients deeper into skin.
Star ingredients:
Hyaluronic acid provides deep hydration to under eye skin.
3 ceramides repair skin barrier
Niacinamide that lighten your skin.
Asparagopsis armata extract is algal proteins have been used as antioxidants, anti-inflammatory, and protective agents.
Type of dark circles: Pigmented and dry under eye skin
Recommended for: Cera ve Skin Repair cream is recommended for brown or pigmented dark circles in a patient with sensitive skin. If you are prone to allaergies in eye area, then Cera Ve might suit you.
AVALAIBLE ONLINE IN
The Ordinary Caffeine Solution 5% + EGCG
Star Ingredients:
Caffeine helps in reducing purple discolouration and puffiness of eye by constricting the blood vessel.
EGCG (Epigallocatechin Gallatyl Glucoside) is the active agent in green tea. It helps in reversing oxidative damage.
Glycine Soja (Soybean) Seed Extract has soothing and skin lightening action.
Lactic acid is alpha hydroxy acid that has gentle exfoliation and skin lightening action.
Type of dark circle: Pigmented Primarily. Might also help vascular and puffy eyes.
Recommended for: If you have mix of purple and brawn hue under your skin along with puffiness.
AVALAIBLE ONLINE IN
Sesderma Retiage Eye Contour Gel
Technology: Liposomal technology that delivers the product into the deep layer of skin
Star ingredients:
Retinol: Sesderm has 3-retinol system in liposomes (retynil, retinol and retinaldehyde). Retinoids have numerous studies to supports the anti-ageing action.
Alpha-Arbutin is a skin lightening agent
Vitamin C in form Ascorbyl Glucoside has skin lightening, anti-ageing and skin repairing action.
Peptides: It has 3 peptides that can help in syntheisis of collagen and elastin.
Hydrolyzed Rice Bran Protein, Hydrolyzed Sodium Hyaluronate provide deep nourishment.
Type of dark circles: Primary for Wrinkles, fine lines and crows feet. Also reduces pigmented dark circles
Recommended for: If you have many fine lines and wrinkles of aged skin, then this product might help. It also has skin lightening action. However, it should not be tried by sensitive skin or those prone to allergy.
AVALAIBLE ONLINE IN
India: Amazon.in
United States: Amazon.com
RoC Multi Correxion 5 in 1 Eye Cream
Technology: Hexyl-R Complex™ Technology improves a wide range of visible signs of aging including a loss of evenness of skin tone and radiance caused by biological stress.
Star ingredients:
Saccharomyces Cerevisiae Extract can also help to increase microcirculation and reduce the appearance of dark circles.
Hexylresorcinol is a potent skin lightening agent.
Panthenol has soothing action
Shea butter provides deep hydration
Ascorbic acid is most potent for of Vitamin C. It has skin lightening anti-ageing and skin repairing action.
Type of dark circles: Pigmented
Recommended for: If you have brown discolouration of under eye area along with dry skin, then this product can help you.
AVALAIBLE ONLINE IN
Lifestyle changes to reduce dark circle
Beside dermatologist recommended under eye cream, you should follow lifestyle changes:
Diet: A well-balanced diet rich in iron, vitamin K, vitamin C not only reduces your dark circles but also gives a healthy glow to the skin. Consumption of excessive alcohol, smoking, caffeinated sodas, addictive drugs, etc. should be avoided.
Sleep: Both, lack of sleep and excessive sleep should be addressed. Research now shows that 6.5 to 7.5 hours of sleep at night with 15-20 minutes of power naps in the daytime is sufficient.
Sun protection: Wearing good quality sunglasses and applying sunscreen daily on the under-eye area prevents fine lines and pigmentation in under-eye skin. Zinc oxide based physical sunscreens should be preferred over the chemical sunscreen in the under-eye area.
Good eye make-up habits: Matte rather than creamy concealers (with a slightly lighter colour than your foundation) can be dabbed on under the eye area and smudged carefully with surrounding skin by applying face powder. You should avoid mascara or eyeliner on the lower eyelid as they can smear on the surrounding skin and give a darker appearance as the day passes on. Always remove your makeup gently with cleansing milk without much rubbing or pulling the skin off under the eye.
Procedures for dark circles
You might need the following procedures for non-responsive dark circles:
REFERENCES: