Homemade Face Wash for Combination Skin
September 23, 2021
2021-09-23 11:58
Homemade Face Wash for Combination Skin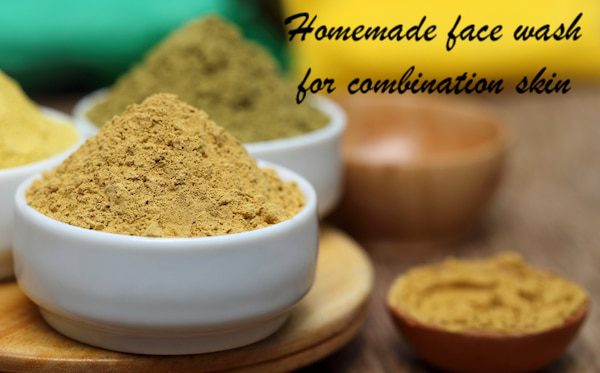 Homemade Face Wash for Combination Skin
Can home made face wash balance the varied oil secretions of combination skin?
Yes it can! Our homemade face wash for combination skin does this with the help of chickpea flour and oats. Turmeric and lemon peel powder provide rejuvenating, skin-lightening, exfoliating and anti-acne benefits. This face wash takes less than 5 minutes to make and can be stored for 1-3 months without refrigeration. So are you ready to try this face wash that is devoid of HARMFUL chemicals?
How to make Homemade Face Wash for Combination Skin?
Mix the following ingredients in completely dry airtight container:
10 tablespoons of grounded oats: Available easily.
10 tablespoons of Gram flour or Besan: Available at
1/2 tablespoon of Turmeric powder: available at
1 table spoon of Neem powder (for acne prone skin): Available at
5-10 drops to tea tree oil to enhance anti-acne action (optional): Available at
1/2 tablespoon of Lemon peel powder (omit in sensitive skin)
Watch this video to know how to make:
Why these ingredients?
Oats and chickpea flours gentle exfoliate your skin to remove dead cells and debris along with preserving just the right amount of oils.
Turmeric and lemon peel powder impart skin-lightening, anti-septic and anti-ageing action to this face pack.
For acne-prone skin, you can add neem to control pimples.
How to use Homemade Face Wash for Combination Skin?
Wash your face with plain water.
Take a small amount of above mixture on your palm.
Put some drops of water and make a paste on your palm.
Massage this paste on your face gently in circular motions.
Spend more time on your T-Zone.
If possible, leave it for a minute or two on your face. The good idea is to start your shower by applying this paste and end by rinsing it.
Rinse off with water and pat dry with a soft tissue, if you have added turmeric to prevent staining of the towels.
How to store Homemade Face Wash for Combination Skin?
The only precaution you need to take is KEEP THIS FACE WASH DRY.  If water gets into this face wash, bacteria and moulds will grow in it.
Store this home made face wash for combination in an airtight container. Close the lid properly after each use. Put it away from the tap. In the beginning, I also wasted a couple of batches until I got more disciplined on keeping this face wash away from water.
This little effort of making and storing this face wash will pay off in the long run with beautiful skin, without risk of harming yourself and the mother earth.
Can this face wash remove make-up?
No, this face wash is not strong enough to remove the make-up. You should remove your makeup with cleansing milk and then wash your face with this homemade face wash.
Why should you use homemade skin care products?
After researching about hundreds of ingredients used in the skincare products, I realised that they might bring temporary benefit but cause skin damage on long term besides promoting cancer and environment damage. This homemade face Wash was my first innovation- all natural, easy to make and store. I hope you will like it!
Do have a look at dermatologist guide for combination skin by clicking here.