Home remedy for sensitive skin: DIY by Dermatologist
September 28, 2021
2022-06-28 11:12
Home remedy for sensitive skin: DIY by Dermatologist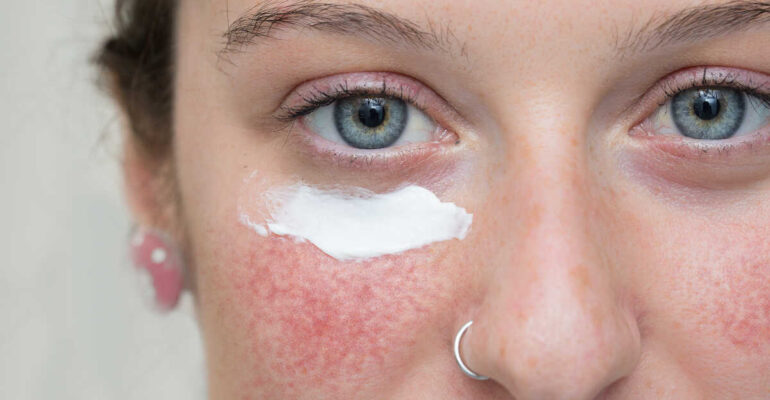 Home remedy for sensitive skin: DIY by Dermatologist
"Doctor, Is there any home remedy for sensitive skin?"
Yes, aloe vera, rose water and calendula are three star ingredients that can calm sensitive skin. We have tried it in our patients with good results. The most important aspect of this home remedy is quality of ingredients used. If you are not sensitive these 3 natural ingredients, then you will definitely see reduction in redness, burning and itching. It will hydrate your skin without occluding your pores.
How to make home remedy for sensitive skin?
Mix the following ingredients in a clean completely dry air tight container,
Watch this video to know how to make this super easy DIY:
How to store?
This remedy can be stored without refrigeration for 1 months, provided you:
Use aloe vera gel from the market, rather than extracting at home. Safe preservatives from aloe vera gel helps to extend shelf life.
Use in batches. Thos gel can go stale easily because the water content is very high. Shift a small quantity of this gel in a completely dry air tight container to be kept on bathroom shelf. Keep the rest of cream in the refrigerator. Refill your room temperature supplies weekly.
Use dry air tight clean container.
Do not let water enter the remedy while using.
Keep it in dry and cool place.
Make sure that your hand is clean and completely dry before you dig your finger to take this cream out from jar.
How to use this home remedy for sensitive skin?
This home remedy can be used as a moisturiser for sensitive skin. Apply it after washing your face and putting rose water as explained in this article, Skin care routine for sensitive skin.
You can also use this remedy for soothing sunburn, insect bite, itching etc. For best result refrigerate this remedy. Massage small amount cream on affected area. The cooling affect of this cream wold give instant relief. Repeat as much time as you like it is completely safe. Can be used in kids also!
What are precautions?
This soothing cream contains the best soothing ingredients. However, rarely they might not suits your irritated skin. Therefore, if you experience redness, irritation, burning, rash or any untoward reaction after using this cream, please discontinue and show to your doctor.