FAQ On Vitiligo
August 24, 2021
2021-08-24 9:46
FAQ On Vitiligo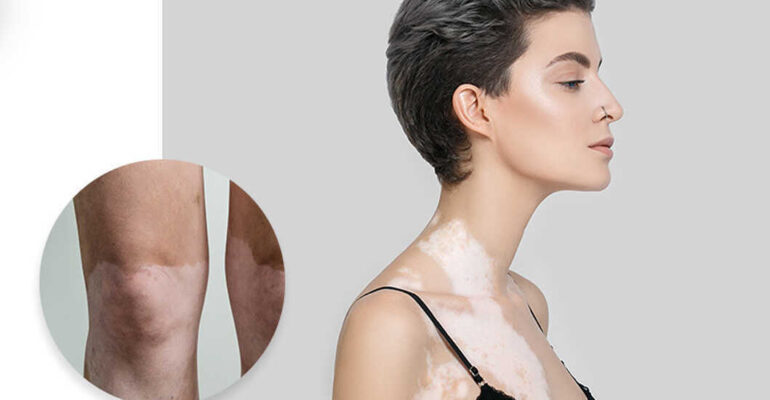 FAQ On Vitiligo
"Doctor, What is Vitiligo? What are vitiligo causes? Can Vitiligo spread by touching? Would my kids have Vitiligo as well? What are Vitiligo symptoms?" Vitiligo is a common depigmenting condition in which areas of skin loose pigment and appears white. It affects about 2 to 3 % of world's population. However, it is more prominent in people with dark skin.
It can occur at any age. However, the most common age of presentation is between 20 to 40 years of age. Though vitiligo is sometimes called as leukoderma, in reality, vitiligo is one the cause of leukoderma, for more details follow this link Leucoderma Or Hypo-pigmentation Causes.
What are vitiligo causes?
Though the exact cause of Vitiligo is not known, it is considered to be an autoimmune condition; meaning that your immune system makes antibodies against your own pigment-forming cells (melanocytes) and results in their destruction. Thus, under the microscope, Vitiligo affected skin shows absence or near absence of functional melanocytes (pigment forming cells). This auto-immunity might be triggered by:
Hormonal changes in the body as seen during adolescence.
Damage to skin from the cut, trauma or sunburns.
Extreme stress.
Contact with certain chemicals.
Can Vitiligo spread by touching?
No, Vitiligo is not contagious or infectious, meaning you cannot pass it to others by touching.
Would my kids suffer from Vitiligo as well?
Only 20 to 30 % people with vitiligo have a positive family history of the disease. Thus, there is the tendency of passing Vitiligo to the children, but that doesn't mean that all children will definitely get it.
What are Vitiligo symptoms?
Vitiligo appears as irregularly shaped patches of white skin, other than the colour difference the skin appears normal. The most common sites of involvement are:
Exposed areas- hands, face.
Around body openings- eyes, nose, umbilicus, mouth & genitals.
On trauma or damaged skin following a cut, scratch, etc.
Segmental where it affects only a segment of the body.
Interestingly, it is tough to predict the course of the disease, but usually, it has a slow progress with periods of stability or no progression in between.
This article is AUTHORED BY Dr Amitoj Garg, MD Dermatology
Dr Amitoj Garg is director of Jagdamba Skin & Laser Center, Sriganganagar, Rajasthan. After finishing dermatology training from Krisha Institute of Medical Sciences, he has received formal training in lasers and cosmetic surgery under the guidance of Dr Venkatraam Mysore. He has conducted presentations and has been awarded at various International, National and State conferences. He can be reached at amitoj2@gmail.com.