Do these 3 things to hydrate dry skin
August 31, 2021
2021-08-31 5:27
Do these 3 things to hydrate dry skin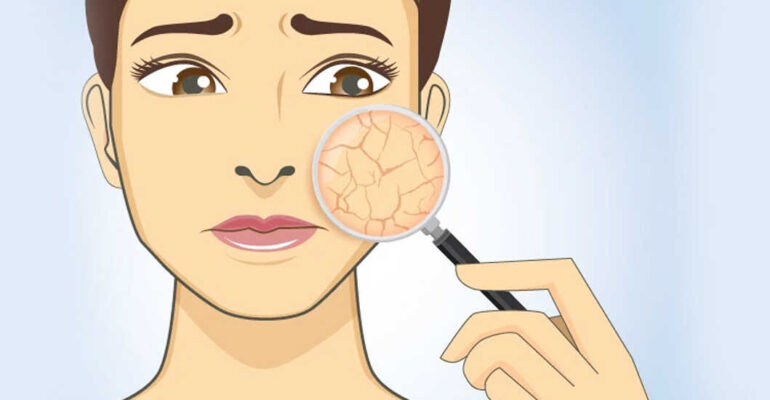 Do these 3 things to hydrate dry skin
"Doctor, I have dry skin, it flakes, itches and sometimes cracks in dry weather, please tell effective ways to tackle my dry skin?"
Did you know if you could address the cause of aggravation of dry skin, choose the right type of cleanser and moisturiser in the right way; the result will be soft and supple skin. Thus, dry skin can be tackled in 3 effective steps:
STEP 1: Check the cause of having dry skin, and troubleshoot accordingly.
STEP 2: Use the right type of cleanser that does not strip NMF.
STEP 3: Moisturize, moisturize and moisturize.
STEP 1: Check the cause of having dry skin, and troubleshoot accordingly.
Cause: Dry and cold winters

Troubleshoot:

Do not use hot water for washing, lukewarm water is best.
Keep a bucket of water or an indoor plant to counteract the humidity loss due to heater or blowers.
Cause: Cold winds

Troubleshoot: Carry a non-woollen soft warm scarf with you and cover your face when it is windy.

Cause: Friction

Troubleshoot: Do not rub, instead pat dry with a soft towel or a facial tissue after washing.

Cause: Harsh chemicals and detergents

Troubleshoot:

Avoid skin care product with harsh surfactants,
Make sure that water does not fall on your face while taking head bath.

Cause: Medical disorder

Troubleshoot: See your doctor, if you are eating medications like cholesterol lowering drugs, diuretics etc. or have diseases like Hypothyroidism, Chronic renal or liver disease etc.

Cause: Skin disorders

Troubleshoot: Atopic Dermatitis, Ichthyosis, etc., can cause dry skin, but here the onset is usually in childhood. See a dermatologist.
STEP 2: Use right type of cleanser that does not strip NMF, here are some tips:
Do not wash your face more than two times a day and remember to pat dry.
Creamy face washes are preferred because they contain additional moisturizer.
If you have the transparent face wash left over from summers, please keep it for next year; and shift to the creamy one.
Look for words like "for dry skin" or "Gentle" or "Moisturizing" or "for sensitive skin" or "hypoallergenic" on the label while "Foaming or oil control or for oily skin" are a big NO.
Avoid Sodium lauryl sulphate, tea-tree oil, salicylic acid, neem etc.
When you use a face wash, look for the amount of suds it produces; the lesser the better.
After washing your face, it should feel slightly dry but it should not feel very dry, stretched or flaky.
Home-based cleanser for dry skin:
You can make this homemade face wash for dry skin using oats and milk powder in just 5 minutes and save your dry skin from harsh surfactants.
A natural alternative for non-acne prone skin is to rub milk-cream or malai on face followed by rinsing; this works well for those who stay indoors and who don't use makeup daily.
If you use oil-based makeup, try the oil-cleansing method.
STEP 3: Moisturize, moisturize and moisturize.
There is no limit to moisturizing dry skin, each time you feel stretch or tightness apply moisturizer. Now, the question is which one?
During the day, sunscreens in cream form are good moisturizers, wear one with SPF of 15 when indoors and top-up with SPF 30 when you step out, no matter it's cloudy or rainy. A BB or CC cream with SPF is also a good option. Repeat every 2-3 hours or as and when your skin feels dry.
At night, a good moisturizing cream can replenish the lost NMF; go for thick creams over thin creams, lotions or serums. Add a dash of anti-ageing with peptides and antioxidants, however, avoid retinoid-based anti-ageing creams. Similarly, pigmented skin types might benefit with additional kojic acid, liquorice or glycolic acid, the latter might irritate sensitive skin.
However, if your skin is super dry, flaking or itching; go for bland creams without active ingredients or use natural alternatives until it gets normal.
Home based moisturizers: Coconut/almond oil is a good moisturizer for non-acne prone skin, while Rosehip oil, Jojoba oil, Hamp seed oil or Argan oil can be used for acne prone skin.
Recognizing dry skin
Here are the distinctive signs of dry skin:
Skin looks dry and flaky.
Feels tight and stretched.
Loses its radiance and appears dull grey coloured.
Skin markings are more evident.
In the severe case, cracking and fissures might develop with itching.
Rarely, severe dryness might trigger eczematous episode with redness, bumps and itching.
Lips might get dry and chapped as well.