How to get rid of dry and chapped lips?
September 3, 2021
2021-09-03 8:36
How to get rid of dry and chapped lips?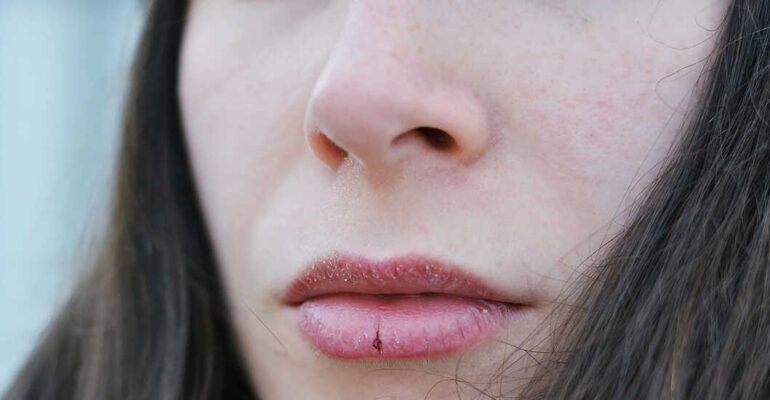 How to get rid of dry and chapped lips?
Are your lips dry, cracked, chapped and flaking? No matter how much and whichever lip balm you use, they do not improve? Could you be suffering from a vitamin deficiency? Are there any home remedies for chapped lips?
In this article, I will help you to get rid of dry and chapped lips in 5 simple steps.
STEP 1: Apply the right kind of lip balms
Does lips get worst after using lip balms? This occurs because some lips balms have irritants like preservatives, flavours, fragrances, urea, fruit extracts, menthol, camphor, etc. Contrary to common belief, you should also avoid lip balms with SPF if your lips are chapped and flaking because the chemicals present in the sunscreen can irritate them.
Lip balm can itself cause chapped lips if you are prone to eczema, atopic dermatitis or rosacea. Better to use ghee in such cases as discussed in next section.
The right kind of lip balm can hydrate your lips when used regularly. Wondering how will you scan through the ingredient list of so many lip balms?  Check out the  Dermatocare reviews on lip balms.
STEP 2: Avoid all possible irritants
Dry lips are more prone to irritation as the basic protective skin barrier is missing, so we need to eliminate or substitute all the possible irritants like lipsticks, mouthwash, acidic or spicy food. In general, you should avoid anything that causes burning, redness or irritation on your dry lips.
You should use toothpaste for kids until the chapped lisps get better. Avoid lipsticks if possible, and introduce one brand of lipstick per week to find which lipstick is not suiting your chapped lips.
STEP 3: Use this home remedy
I have tried various lip balms from reputed companies, in fact, spend on some luxury brands as well. However, the chapped lips showed some improvement only to come back. Then I decided to use this all-natural cure that is mentioned in the Ayurvedic texts, and to my surprise, it never stopped working. It is cheap and very simple to implement and worked wonders for most of my users.
As soon as you feel like licking your dry lip, take some ghee on your finger, warm it by rubbing between your finger and thumb and apply it on your lips. You might have to apply ghee every 30 to 120 minutes initially depending on the severity of chapped lips, but eventually, you can use it after each meal. Make sure that you apply a thick coat of ghee on your lips before sleeping all through your life.
Ghee or clarified butter is available easily in Indian grocery stores, or you can buy it online by clicking on the links given below:
STEP 4: Avoid licking your lips
Most of you knowingly or unknowingly tend to moisten your dry lips by licking them. This provides temporary relief from the stretch, but it eventually causes damage because the enzyme present in saliva further irritates the lips.
Avoid removing the flakes that peel off from your dry lips because they protect the immature new skin and these flakes will fall off naturally when underlying new skin would be ready to take over.
STEP 5: Substitute causative medicine
If you are taking regular medicines, then they might cause dry lips. The most common medicines that lead to dry lips are isotretinoin, high doses of vitamin A, D-penicillamine, isoniazid, phenothiazine, lithium, busulfan, actinomycin, etc. Please consult your physician before discontinuing the medicines, and ask for an alternative.
When to consult dermatologist for dry and chapped lips?
Most of the time, the precautions listed above are enough to settle dry lips, but you might need an expert intervention if:
The above measures don't help for more than two or three weeks.
You have cracks, redness and dryness on the corners of the mouth.
You have soreness and burning on your tongue and mucosal lining of cheeks, this indicates that vitamin deficiency might be the cause of your chapped lips.
There is a formation of a raw area, oozing, pus discharge, bleeding, growth, etc. take an appointment with your dermatologist as soon as possible.