Alopecia Areata- Dermatologist Guide to diagnosis and treatment
August 27, 2021
2021-08-27 9:37
Alopecia Areata- Dermatologist Guide to diagnosis and treatment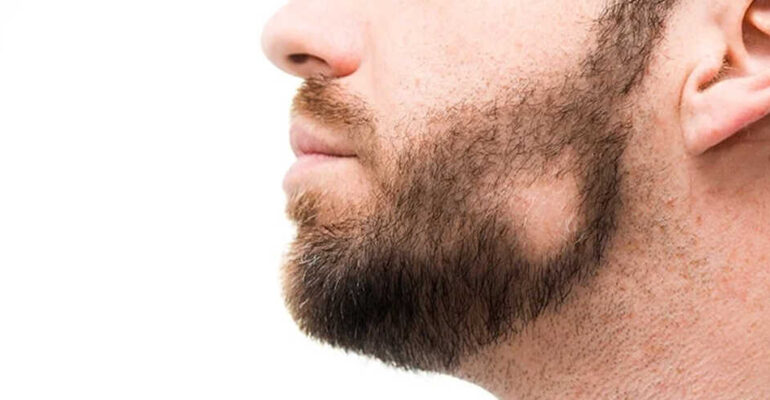 Alopecia Areata- Dermatologist Guide to diagnosis and treatment
Alopecia means loss of hair or baldness. There are many types of alopecia. Alopecia areata is a common cause of localized bald patches on the scalp in all age groups. Alopecia areata is a non-scarring type of hair loss that typically causes patches of baldness. In 90% cases, the scalp is the involved site.
Watch this video by Dr Surbhi, MD for knowing cause, symptoms, treatment, home remedies and red flag signs that indicate severe or recurrent alopecia areata:

What causes alopecia areata?
Alopecia areata is an auto-immune disease. It happens when your immune system mistakenly attacks and damages your hair follicles, due to which the hair becomes weak, and ultimately falls out. Fortunately, the damage to the follicle is usually not permanent.
How does alopecia areata present?
It is seen as a smooth, round patch of a sudden loss of hair in well-demarcated areas. For this reason, it is often referred to as spot baldness. However, the lesion(s) may be single or numerous. Rarely, it can lead to the total loss of hair on the scalp or complete loss of hair on the scalp, face, and/or body.
What are the chances of progression of alopecia areata?
The course of alopecia areata is unpredictable, as it all depends on how one's immune system reacts.
If alopecia areata involves less than half of the scalp, hair regrowth can be expected within a year in most patients. Extensive the area involved, the higher the chance of recurrence.
About 10% of people with alopecia areata may never regrow hair.
About 1 in 5 patients with alopecia areata may develop total scalp baldness (alopecia totalis)
About 1 in 10 may progress to loss of all scalp and body hair (alopecia universalis).
How to treat Alopecia Areata?
A number of treatments can induce hair growth in alopecia areata but none has been shown to alter the course of the disease.
Watchful expectancy: Alopecia areata itself doesn't affect your general health. So, leaving alopecia areata untreated is a legitimate option for many patients.
Steroid injections: Injections of steroid into the alopecia patches of suppress the local immune reaction, allowing the hair follicles to regrow new hair. A skin specialist should do this treatment only.
Topical treatments: Topical steroids, minoxidil solution, and topical immunotherapy are other effective treatments.
Can home remedies help in getting rid of alopecia areata?
Some people with alopecia areata try alternative therapies, which are said to stimulate hair growth in the affected patches. Some of the popular home treatments include rubbing any of these into the bald patches:
Lavender (diluted in coconut oil)
Onion juice
The outer skin of vegetables such as potatoes, peppers, and cucumbers, coconut milk mixed with gram flour
A cloth dipped into green tea
The mixture of petals of the hibiscus flower with dandelion oil.
 MUST Read: Complete Dermatologist Guide on Alopecia or Hair Loss
ABOUT THE AUTHOR:
This is article is written by renowned dermatologist Dr Nitin, MD Skin. He is the founder of Dermacosm, which is a dermatologic clinic dedicated to providing clinical dermatology, paediatric dermatology, cosmetology and dermato-surgery services.