Turmeric for skin: 15 benefits with recipes from Dermatologist
September 2, 2020
2020-09-02 10:55
Turmeric for skin: 15 benefits with recipes from Dermatologist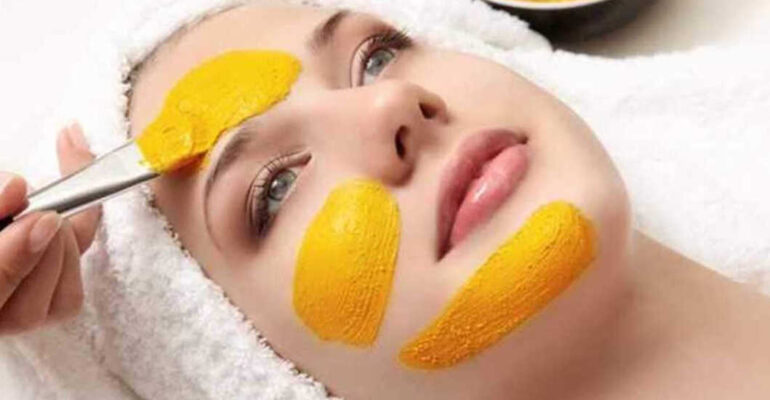 Turmeric for skin: 15 benefits with recipes from Dermatologist
Turmeric or to be more precise its active principles curcumin has been researched globally for its skin benefits. No wonder why our grandmothers vouched upon its healing properties. The custom of putting a paste of turmeric on the skin of the bride and bridegroom just before marriage in India, also speaks out loud about the benefits of applying turmeric on skin.
In this article, I have compiled  15 benefits of using turmeric for skin after researching the PubMed and other scientific data. I have also listed the recipes on how to use turmeric of skin whitening, wrinkles, pimple, skin infections, unwanted hair, cleansing etc. So, read on!
1. Turmeric for skin whitening:
Why? Curcumin or turmeric lightens your skin by inhibiting the synthesis pigment melanin in the skin. This study concludes that the melanin (skin pigment) content and tyrosinase (an enzyme used to make melanin) activity were significantly inhibited by curcumin in a dose-dependent manner.
How? You can mix a pinch of turmeric mixed with 2 spoons milk on your face. Massage on face (non-acne prone skin only) and rinse off in 15-30 minutes. The more potent and effective way to use turmeric for skin whitening are following turmeric based face packs:
2. Turmeric for acne
Why? Turmeric inhibits the growth of pimple-causing bacteria and is especially beneficial in red or pus-filled pimples. In addition, anti-inflammatory properties of turmeric accelerate the healing of red pimples.
How? You can either:
3. Turmeric for wrinkle-free glowing skin
Why? Turmeric is one of the few natural ingredients that might help in skin tightening along with reversing ageing due its potent anti-oxidants and UV protecting action (source).
How? Turmeric-based face pack is used regularly in India for glowing skin. I have further modified this time-tested recipe for giving instant results as described in this article; 1 Must Do Face Pack For Instant Glow: DIY recipe from Dermatologist
4. Turmeric as cleanser
Why? Turmeric has been used in ancient India as part of ubtan used for cleansing before the advent of soaps. The anti-septic properties make turmeric an essential part of cleansing rituals.
How? Face wash is one such product that you use daily and you might not like to make one every day like me. So, I found out a way to make all-natural cleanser using kitchen supplies that can be stored on bathroom shelf for a month. Guess what? I have been using it for 3 years with excellent results. This is one of the first recipes formulated by me as a part of rasing awareness on chemical free skin care. Click on the links given below and enjoy chemical free cleansing:
5. Turmeric for skin infections
Why? There are numerous studies of anti-septic benefits of turmeric. No wonder why are grandparents vouched upon applying turmeric on cuts, burns or wounds; turmeric is an excellent antiseptic that not only keeps the infections away by its anti-bacterial properties but also helps in healing. With the advent of anti-bacterial resistance, we should use turmeric as first-line anti-septic. To know how read further!
How? The paste of pinch of turmeric in a teaspoon warm ghee or coconut oil can be applied on wounds, cuts, boils, fungal infection, minor burns; insect bites, etc. to aid healing and prevent infections. Or else you can make this powerful anti-septic cream by combining turmeric with honey, neem etc.
6. Turmeric for hair removal:
Why? Turmeric paste might reduce the growth of unwanted facial hair on regular use. Though we could not find evidence for this, it is commonly spoken about in India folk medicines that turmeric based ubtan can help in reducing hair growth.
How? Make a paste of besan (chickpea flour) and turmeric as detailed in this article, How To Get Rid Of Facial Hair Naturally
7. Turmeric for stretch marks:
Massaging the mixture of chickpea flour and turmeric might lighten the stretch marks (though we could not cite evidence).
OTHER USES:
8. Anti-cancer: Turmeric helps in fighting cancer by stopping the proliferation of cancer cells and causing their death.
9. Anti-fungal: Turmeric inhibits the growth of most of the fungus that causes ringworm, but turmeric oil has an edge over curcumin for this action.
10. Insect repellent: Turmeric oil repels mosquito when applied to the skin.
11. Boils: Paste of turmeric and mustard oil when applied directly on the boils, helps in their healing by its anti-bacterial action.
12. Wound Healing: Studies show that curcumin, the active ingredient of turmeric accelerates the wound healing not only in healthy individuals but also those with diabetics. Thus, application of turmeric paste on wounds, cuts, or boils not only prevents infection but also aids in healing.
13 Cracked Heels: Owing to skin healing properties, a mixture of coconut oil and turmeric can be used for cracked heels.
14. Psoriasis: Curcumin has shown improvement in plaques of psoriasis in various studies.
15. Vitiligo: Tetrahydrocurcumin enhances the results of UVB phototherapy used for vitiligo.
Which are side effects of using turmeric on skin?
Turmeric is usually well tolerated by all skin types including sensitive skin types. However, wash it immediately if you experience redness, burning or other breakouts on using it.
What are precautions associated with the use of turmeric?
Turmeric should be bought from a reliable source because turmeric might be adulterated with lead chromate.
Turmeric should be protected from sunlight because sun accelerates its deterioration.
Turmeric inhibits the acid secretion in the stomach, so should be ingested before the meal for maximum benefit.
Ginger and pepper increase the absorption of turmeric in the body.
The FDA has declared turmeric and its active component curcumin as GRAS (generally regarded as safe). However, it should not be ingested in high dose during pregnancy, acute jaundice or hepatitis.
Turmeric can stain clothes, be careful while using it.
Turmeric can temporarily stain your skin; you might have to rinse thoroughly with running water followed by wiping it gently with a facial tissue.
Turmeric interacts with certain medications; consult your doctor regarding it.
I eat turmeric daily, should I still apply it?
Turmeric has immense health benefits when taken orally. However, heating of turmeric during cooking and mixing it with oils might diminish the beneficial effect of this wonderful herb.
In the end, I am providing the list of recipes with turmeric for quick reference:
1. Skin lightening face pack:
2. Pimples
3. Anti-aging face pack
3. Home-made face wash
4. For Excessive Hair:
5. Antiseptic cream: