Best Anti-dandruff shampoo- Dermatologist choice
August 30, 2021
2021-08-30 8:46
Best Anti-dandruff shampoo- Dermatologist choice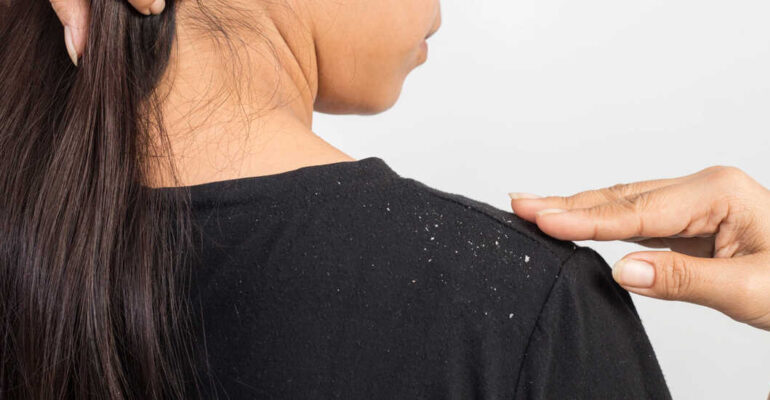 Best Anti-dandruff shampoo- Dermatologist choice
"Doctor, How to get rid of dandruff, I have tried almost all the brands of anti-dandruff shampoos, but dandruff still comes back?"
Well, the reality is that dandruff keeps coming back.
Do you know why? Dandruff is exaggeration of normal scaling process that is otherwise not visible. The only choice is to use dermatologist recommended anti-dandruff shampoos to avoid flakes from coming back.
What is Dandruff?
In our skin, dead cells are continually replaced by new cells; however this process is imperceptible to human eyes. When this shedding of dead cells increases, they are visible as tiny white flakes called dandruff. Thus, the physiological process of scaling is aggravated in dandruff without any element of inflammation. When inflammation occurs, it is termed as Seborrheic dermatitis.
What causes Dandruff?
Dandruff or Seborrheic dermatitis occurs because of overgrowth of fungus. This fungus survives on the oil secretion. Its overgrowth is triggered by following factors:
Adolescence: Dandruff is particularly common during the phase of adolescence. Because it is the time when your oil-secreting glands are very active.
Poor scalp hygiene:  This occurs due to infrequent or inefficient washing of your hair. Therefore, it important to completely remove the oil from your scalp.
Oily Hair: Oily hairs have abundant food for the fungus that leads to dandruff.
Poor diet: Diet deficient in zinc, vitamin B or essential fatty acids can also cause itchy and flaky scalp.
Stress: Stress triggers both dandruff and itching on scalp.
Medical disorders: Dandruff is common in AIDS, Parkinson's disease or in any chronic illness.
Dermatologist recommended anti-dandruff shampoos
Unfortunately, anti-dandruff shampoos stop working over a period of time. Therefore, the secret for getting rid of dandruff is to rotate various brands of dandruff shampoos in sequence listed below. If you are new to dandruff, then start with OTC brands, for example:
Head & Shoulders Neem Shampoos
It has ZPTO or Zinc pyrithione as the active agent. Besides anti-fungal action, it reduces oil production and normalises skin turnover. Neem in this variant also helps in reducing the fungus overgrowth.
Mamaearth Tea Tree Anti Dandruff Shampoo

Mamaearth Tea Tree Anti Dandruff Shampoo has tea tree oil and ginger extracts. The base of this shampoo is mild and sulphate free. 
Clear shampoo
This has ZPTO and Nutrium 10. Nutrium 10 nourishes the scalp to eliminate flakes, soothes dryness and repairs the scalp barriers.
Switch to medicated shampoos if your dandruff refuses to go with above brands in sequence listed below.
Selsun Blue Anti-dandruff Shampoo
Available online in
India@ Amazon.in
United States @ Amazon.com
SebaMed Anti Dandruff Shampoo
Available online in
India@ Amazon.in
United States @ Amazon.com
Neutrogena T/Sal Therapeutic Shampoo
Available online in
India@ Amazon.in
United States @ Amazon.com
Salicylic acid-based shampoo loosen adhesion between skin cells and thus reduce dandruff.
Nizoral Anti-Dandruff Shampoo
It is Ketaconazole based shampoo. If ketoconazole shampoo has stopped working for you then you should consult a dermatologist for prescription based solutions for your dandruff.
Available online in
India@ Amazon.in
United States @ Amazon.com
Natural dandruff remedies
The list of home remedies is vast, but I am listing the one with some scientific evidence:
Aloe vera and tea tree oil:
Mix 30 gm aloe vera gel with 10-15 drops of tea tree oil.  Apply on scalp surface overnight. Wash next day. This remedy works nicely for oily scalp.
Lemon juice: Put 10 drops of lemon juice in coconut oil. Mix it well. Put it on scalp either overnight or 2-3 hours before hair wash.
Ayurvedic oil: Ayurvedic anti-dandruff oils with tea tree oil, neem or ginger etc can help in reducing dandruff. In case of oily hair put  oil 1 hour before hair wash. For dry scalp, put overnight.
Watch this video to know in details about hair care regime in dandruff. Dr Surbhi, MD skin explains how often you need to wash your hair and correct method of using dandruff shampoo.
When should I consult dermatologist?
You should consult dermatologist, if your dandruff is accompanied by itching redness or scally patches, because this indicates you have seborrheic dermatitis.
Rarely, allergy of scalp can present as dandruff. In this situation, the anti-dandruff shampoos can indeed worsen your problem and your scalp might feel dry rather than oily.